MAIN TECHNIQUES
Communication Mode :
1. LORAWAN
(1) Component: Lorawan has four parts
Node: gas meter, water meter, position , alertor etc.
Gateway: receiving data
Network platform : Management of equipment in base station, DNSEG control etc.
User's data background : data storage and application processing for user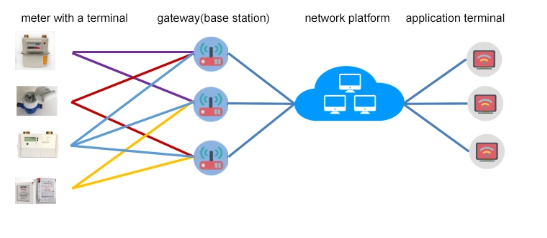 The main chip of LORAWAN communication module adopts the high-performance embedded ARM cortex-m3 32-bit RISC controller, which ensures the stability of the device with multilevel software detection and multiple hardware protection mechanisms.It is composed of the powerful ARM cortex-m3 32-bit RISC microcontroller and Lorawan wireless spread spectrum chip .